Very nice post Psusennes I. For the most part I think you have stated the known facts about Hatshepsut and her rise to power very well, however there are still a number of mysteries surrounding here life, reign, and death. Since nobody knows the true relationship between Hatshepsut and Thutmoses III, we can only speculate on the details of the co-regency, whether Thutmoses held her in disdain, the details of her disappearance, and the defacing of her name and images.
One thing that I always found interesting about Hatshepsut is that everyone always says when she took the throne she also took on the male persona. This is not always true. Yes, most scenes where she is shown in the presence of Amun, she is depicted as a male and here titulary reflects this, yet, there are numerous statues and inscriptions that depict her as a female with the regalia of the Pharaoh with titles shown in the female gender. This expands on your statement "that her earthly body was that of a woman, but her ka was that of a man" and how her 'divine' self in the presence of the deities (as the manifestation of Horus) was male, and here physical self as Pharaoh of the people was that of a woman, yet even this is not always true.
Examples:
Here, on the left side facing left, we see Ma'at-Ka-Re (Hatshepsut) making an offering to Amun. "She" is shown with the kilt,wig, and physique of a male Pharaoh..but look closer. Look at the cartouche above her head and the title that preceeds it.
It says "
Nesu.t bi.t Neb.t tawi Ma'at-Ka-Re Di Ankh djet
." This translates to "King of Upper and Lower Egypt, Mistress of the two lands (not the traditional "lord of the two lands") Ma'at-Ka-Re, Given Life eternaly". The small half round or 'breadcake' shown below the glyph for Lord denotes a 'feminine' gender and transliterates to '
.t
.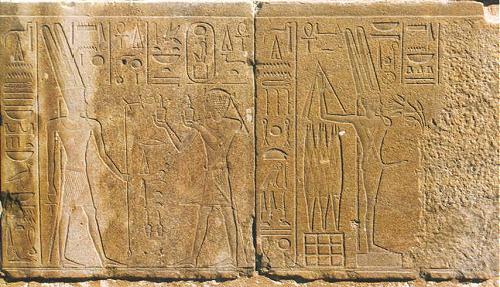 Here we see the famous statue of Hatshepsut from the Metropolitan Museum in New York City (one of my absolute favorite pieces). She is shown wearing the Nemes head cloth while seated upon a throne, yet she has breasts, a very delicat facial features and an obvious physique of a woman. Looking closer on her lower right (your lower left) again we see her cartouche and a title preceding it. It transliterates to "
Neter.t nefer Neb.t tawi Ma'at-Ka-Re.
It's translation is "The good Goddess (not the traditional "good God"), Mistress of the two lands, Ma'at-Ka-Re. Again we see two examples of the
.t
in the form of the 'breadcake' that denotes the feminine form of the glyph.