I have seen these images (not in person) at Dendera. They are quite mysterious and I honestly have to say that they are very hard to dismiss as NOT being some kind of light bulb with electric cord.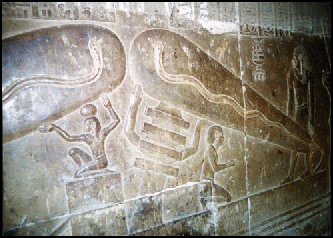 I think it was Erik Von Daniken who actually made a working lightbulb from the design shown in the releifs. Others say it is has religious meaning and has nothing to with electricity and light bulbs, that its just our modern minds trying to impose our own symbols, technology and meanings on ancient civilizations to try to enhance the "fringe" element of Egyptology.
"
Inside these "bulbs" there are snakes in wavy lines. The snakes' pointed tails issue from a lotus flower, which, without much imagination, can be interpreted as the socket of the bulb. Something similar to a wire leads to a small box on which the air god is kneeling. Adjacent to it stands a two-armed djed pillar as a symbol of power, which is connected to the snake. Also remarkable is the baboon-like demon holding two knives in his hands, which are interpreted as a protective and defensive power.....Von Däniken sees the snake as a filament, the djed pillar as an insulator, and claims that "the monkey with the sharpened knives symbolizes the danger that awaits those who do not understand the device
."
Im still on the fence. I'm not convinced that they are light bulbs....but I'm also not convinced that they aren't!
Here is some more info but if you google it you can find other points of view and probably better pictures.
Dendera Light Bulbs