the_tutness_is_here
Pharaoh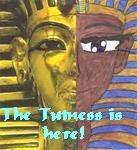 Joined: 09 May 2005
Posts: 574
Location: The palace of Tutness!
Posted: Mon Jun 25, 2007 3:39 pm

Post subject:

---

....Heh heh....Ay turned into a rat...heh heh...ha...haha...HAHAHAHAHAHAHAA!!!

...Sorry, I found that utterly halarious, what credentials does your teacher have, and where on God's Green Globe did you hear all this? Please DO enlighten me, I'm dying to hear this one...I've NEVER heard this in all my 20 years of life on this planet.
_________________
How does it FEEL to lose the one who understood you the MOST? He died to protect you, and YOU were supposed to protect HIM. What a shame...